Oxytocin is a hormone that acts as a neurotransmitter. It plays an important role in reproduction. In females, the hormone triggers labor and the release of breastmilk. In males, oxytocin helps move sperm.
Oxytocin a naturally occurring hormone. It's produced by the hypothalamus — a small region at the base of your brain — and secreted by the nearby pituitary gland. Oxytocin, dopamine, and serotonin are often referred to as our "happy hormones." When you're attracted to another person, your brain releases dopamine, your serotonin levels increase, and oxytocin is produced. This causes you to feel a surge of positive emotion.
Oxytocin is a particularly important hormone for women. "Oxytocin is a peptide produced in the brain that was first recognized for its role in the birth process, and also in nursing.  The hormone causes uterine contractions during labor and helps shrink the uterus after delivery. When an infant suckles at his or her mother's breast, the stimulation causes a release of oxytocin, which, in turn, orders the body to "let down" milk for the baby to drink.
Oxytocin also promotes mother-child bonding. Studies show that "female rats find pups to be aversive if [the females are] virgins," Young told Live Science. "But once they give birth, the brain is transformed, so they find the pups irresistible,". And similar findings are seen in humans.
A 2007 study published in the journal Psychological Science found that the higher a mom's oxytocin levels in the first trimester of pregnancy, the more likely she was to engage in bonding behaviors such as singing to or bathing her baby.
Although maternal bonding may not always be hardwired — after all, human females can adopt babies and take care of them — oxytocin released during pregnancy "does seem to have a role in motivation and feelings of connectedness to a baby," Young said. Studies also show that interacting with a baby causes the infant's own oxytocin levels to increase, he added.
When you hug or kiss a loved one, your pituitary gland releases oxytocin. This is especially important for pair bonding, like in romantic relationships, as it elevates your mood and makes you feel more "attached" to your romantic partner. Oxytocin is also thought to help you "get in the mood", contributing to sexual arousal and orgasms.
As you might imagine for a hormone that triggers your protective instincts, oxytocin also plays a big role in maternal attachment. During childbirth, it helps with cervical dilations and contractions. It's also crucial for breastfeeding: when a baby is suckling at the parent's breast, or even crying, oxytocin is released in the brain, triggering the reflex to release breastmilk from the nipples.
Not planning on having kids? Want to stay single forever? Well, oxytocin can still benefit you. This hormone promotes generosity and trust, decreases fear, and even helps you recover from negative social interactions (like that one bad date that made you so cynical in the first place).
Finally, oxytocin even plays a role in platonic relationships! Studies have shown that oxytocin levels can rise in humans and dogs after petting or playing with each other. Now you have a scientific reason to go get that puppy you've always wanted.
But oxytocin is tied to more than just new love. It's also released during sexual activity and linked to the intensity of orgasms. all of oxytocin's possible relationship-enhancing effects. Some of these include:
trust
gazing
empathy
positive relationship memories
fidelity
positive communication
processing of bonding cues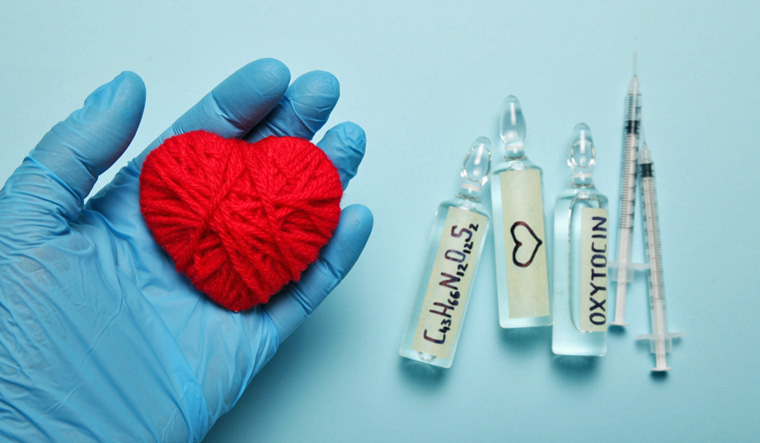 In men, as in women, oxytocin facilitates bonding. Dads who got a boost of oxytocin via a nasal spray played more closely with their 5-month-old babies than dads who didn't get the hormone zap, a 2012 study found. (There is another hormone, called vasopressin, which plays a stronger role in men.)
This anti-social effect of a social hormone brings some nuance to the story of oxytocin. In one study, researchers found that Dutch students given a snort of the hormone became more positive about fictional Dutch characters, but were more negative about characters with Arab or German names. The finding suggests that oxytocin's social bonding effects are targeted at whomever a person perceives as part of their in-group, the researchers reported in January 2011 in the journal PNAS.
In another study, published in PNAS in 2010, men were given a dose of oxytocin and asked to write about their mothers. Those with secure relationships described their moms as more caring after the hormone dose. Those with troubled relationships actually saw their mothers as less caring. The hormone may help with the formation of social memories, according to the study researchers, so a whiff strengthens previous associations, whether good or bad.
"My view of what oxytocin is doing in the brain is making social information more salient," Young said. "It connects brain areas involved in processing social information — whether it's sights, faces, sounds or smells — and helps link those areas to the brain's reward system."
Get real time update about this post categories directly on your device, subscribe now.