Quantum computer, device that employs properties described by quantum mechanics to enhance computations.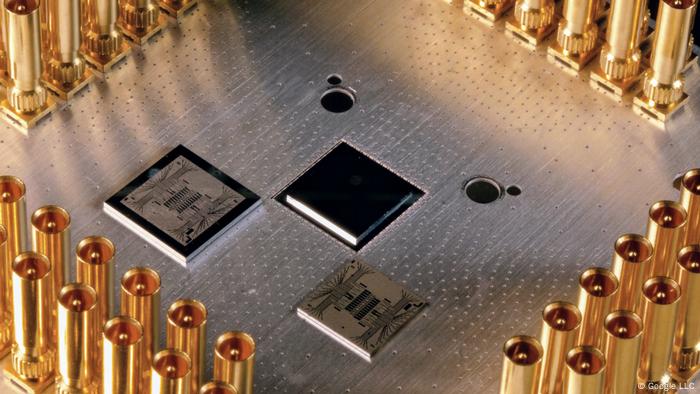 Performing an unimaginable number of operations in the shortest time possible, quantum computers inspire the imagination. Their task: to crack complicated equations. But how they do it is less simple.
One of the biggest barriers to advancing quantum computer hardware is dealing with all the noise generated by those qubits, they're hyperactive compared to regular bits, so it's hard to figure out what's going on with them. But a series of advancements in error-correction and noise-supression have recently paved the way forward. And, if history is any indicator, we can expect a usable 100 qubit processor as early as this year. What's this mean?
As far as doom and gloom goes, the people screaming about killer robots might have it wrong. The Washington Post reports "quantum computers may be more of an imminent threat than AI." Quantum brute-force would, theoretically, make classical encryption obsolete. And that means we need to prepare the current computers and networks for entirely new methods of encryption, something that'll take a lot of time and money. So if you're looking for a new career, consider post-quantum cryptography. It's likely to be a popular and lucrative field sooner than most people think. The current state of quantum computing is a bit polarizing and it's pretty difficult to figure out how far we are from that future though.
Google just took a quantum leap in computer science. Using the company's state-of-the-art quantum computer, called Sycamore, Google has claimed "quantum supremacy" over the most powerful supercomputers in the world by solving a problem considered virtually impossible for normal machines.
The quantum computer completed the complex computation in 200 seconds. That same calculation would take even the most powerful supercomputers approximately 10,000 years to finish, the team of researchers, led by John Martinis, an experimental physicist at the University of California, Santa Barbara, wrote in their study published.
"It is likely that the classical simulation time, currently estimated at 10,000 years, will be reduced by improved classical hardware and algorithms," Brooks Foxen, a graduate student researcher in Martinis' lab, said in a statement. "But since we are currently 1.5 trillion times faster, we feel comfortable laying claim to this achievement," he added, referring to the supremacy of quantum computers.
Quantum computers take advantage of the whacky physics of quantum mechanics to solve problems that would be extremely difficult, if not impossible, for classical, semiconductor-based computers to solve.
At 100 qubits a single quantum computer processor would, theoretically, be more powerful than all the supercomputers on the planet combined. We may be closer to that milestone than you think and the world isn't ready.
The calculation that Google chose to conquer is the quantum equivalent of generating a very long list of random numbers and checking their values a million times over. The result is a solution not particularly useful outside of the world of quantum mechanics, but it has big implications for the processing power of a device.
In any case, five qubits is still too few to do anything useful. But, if you think you might have a good reason to use quantum computing in the future, I suggest you register and play around, because IBM has a very aggressive timetable for scaling: it expects to hit between 50 and 100 qubits within the next decade. At 50 qubits, IBM will be able to do useful stuff. That means useful qubit numbers should be coming within five years and toys that do neat tricks a couple of years later.
Ordinary computers perform calculations using "bits" of information, which, like on-and-off switches, can exist in only two states: either 1 or 0. Quantum computers use quantum bits, or "qubits," which can exist as both 1 and 0 simultaneously. This bizarre consequence of quantum mechanics is called a superposition state and is the key to the quantum computer's advantage over classical computers.
In a phenomenon described by Albert Einstein as "spooky action at a distance," particles that have interacted at some point in time can become entangled. This means that measuring the state of one particle allows you to simultaneously know the state of the other, regardless of the distance between the particles. If the qubits of a quantum computer are entangled, they can all be measured simultaneously.
Bits and Qubits
Our current computing world is digital. That means it consists of binary digits, or "bits." In practice, these bits can have either a value of 0 or 1, which represent states of electronic charge on transistors and chips. In the world of quantum physics, it becomes much more complicated. Here, we speak of "qubits," or quantum bits. These cannot only assume the states 0 and 1 simultaneously, but also all states in between.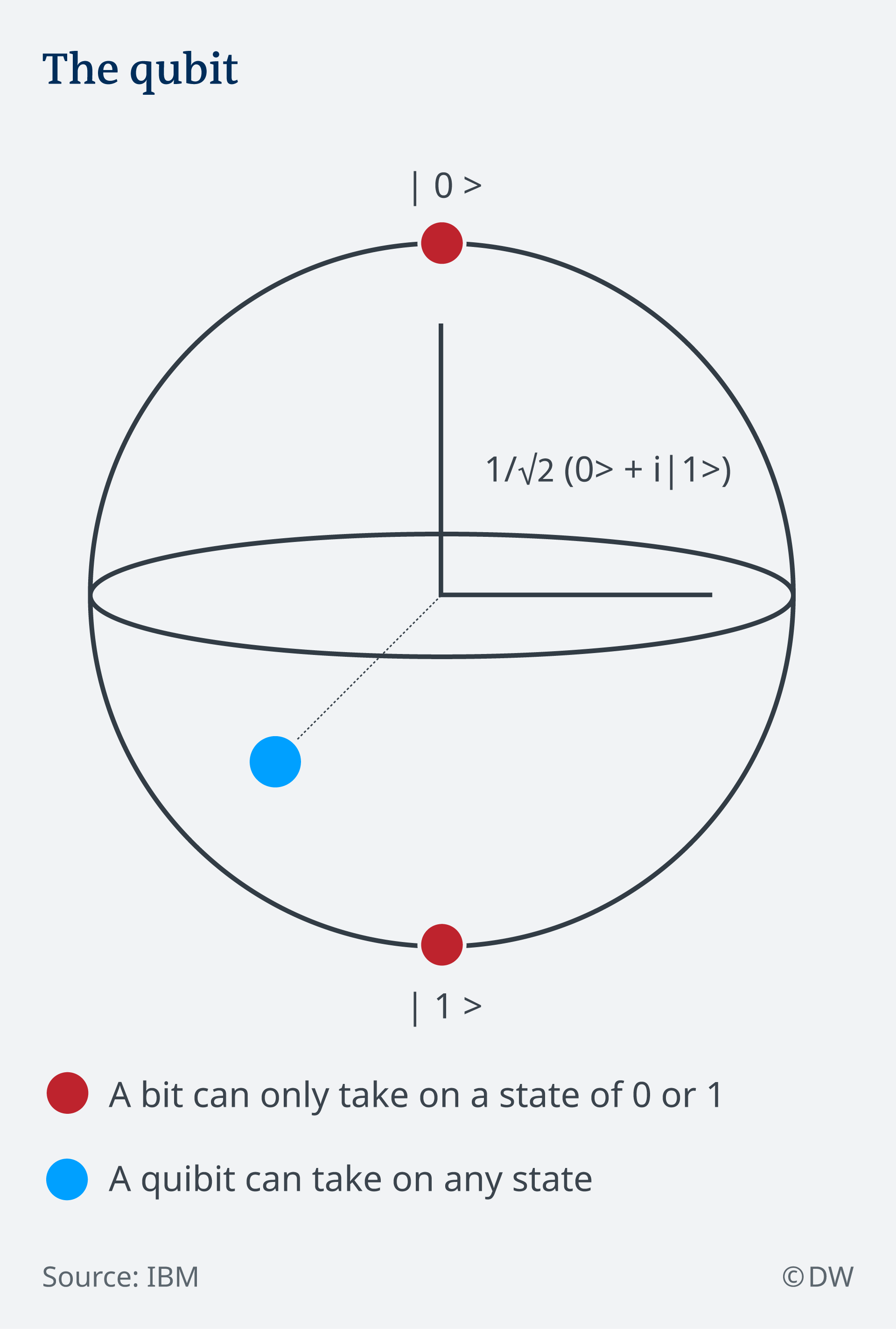 To better illustrate this idea, imagine a coin. With a digital bit, the coin is either heads up or tails up ⁠— thus 0 or 1. Now, for a qubit, imagine a coin that is spinning on a table. It hasn't fallen yet, so you can't decide if it's tails up or heads up.
Erwin Schrödinger described this paradox in 1935, using the example of a cat that is in a box together with a radioactive substance and some poison: At a certain point in time, one cannot tell whether the cat is dead or alive. Consequently, it maintains both states at the same time. Only when one opens the box does the cat take on a fixed state — either it is still alive, or it has already died. In physics, this happens during a measurement — the quantum state then ends.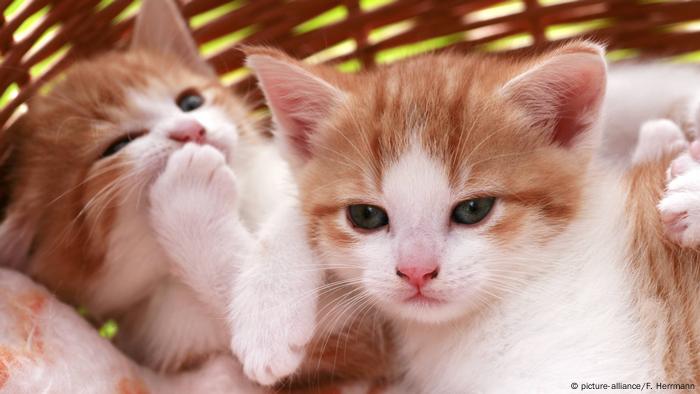 These two may become entangled quantum systems, if placed in two different boxes
Quantum entanglement
This phenomenon can't actually be understood with conventional physical logic. Albert Einstein described it as a "spooky distant effect:" Two quantum systems (such as qubits) are correlated with their states — they have the same state — but only as long as their state is not determined.
In our coin model, this would be like having two coins rotate at the same time. Both, no matter how far away they are from each other, assume the same state. The moment a coin falls on its side and its state becomes fixed, the quantum entanglement collapses. It's similar with Schrödinger's cat: If you had two boxes of two cats, there could be a quantum entanglement between them, but only as long as the boxes are closed.
Get real time update about this post categories directly on your device, subscribe now.